vocals / accordion / bajo-sexto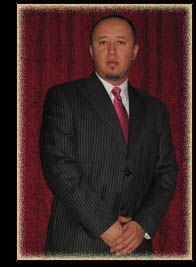 Born in San Marcos, TX, Enrique is the eldest of two children. After graduating from Seguin High School Enrique attended Southwest Texas State University in San Marcos, TX. and received a Bachelors of Fine Arts with a Major in Communication Design. In late 1994 Enrique and friend Robert DelaGarza decided to join Joshua and Miguel Carrillo in efforts to create a band. Fantacia would be the name and Enrique would take over as front man.
Tu Carcel would be the very first song that Enrique would learn and is still performed live today. It would also be the first song the band would ever record in the studio. Not coming from a musical background has made it a challenge to break into the music scene for Enrique. He has always been an artist but has acquired the taste to sing and perform now. His musical influences are Metallica, Tierra Tejana, La Mafia, Los Palominos, Mana´, Little Joe, Juan P. Moreno, Tim McGraw, Ana Gabriel, Tom Petty, Juan Gabriel and most of all Queensryche.
Equipment List:
Gabbanelli Accordion White 3 switch dual key (FBE/GCF)
Gabbanelli Accordion Pearl Blue 5 switch key (FBE)
Macias Bajo-Sexto
Black 1960 re-issue Les Paul
Takamine G series